31 October 2018
Chef Spotlight: Executive Chef Warren Barr
Talented, driven and innovative, we are proud to have Executive Chef Warren Barr at the helm of the kitchen team for The Pointe Restaurant. With appearances across the country, such as P.E.I.'s Fall Flavours Festival, 2018 has been another phenomenal year for Chef Barr.
Warren started his culinary career as a young (19 years old!) apprentice at Vancouver's esteemed and legendary Le Crocodile restaurant. Over three years, he honed his craft in Crocodile's innovative environment before taking off to cook in France for six months. Upon his return he worked at another high-end French restaurant, Bistro Pastis.
In 2005, Chef Barr switched coasts and went east to P.E.I.'s farm-to-table restaurant at The Inn at Bay Fortune. It was there, he says, that he formed an in-depth relationship with local suppliers and ingredients, now a signature aspect of Chef Barr's menu choices. After six years in the Atlantic provinces, Chef Barr returned to the west coast—lucky for us!
As part of our culinary team since 2010, Chef Barr is an integral part of the Wickaninnish Inn. His dedication, knowledge and passion for working with local and in-season products cultivates the menus we offer, but it is also expanding the possibilities of what Canadian fare can be.
His dedication to quality and contemporary Canadian cuisine has not gone unnoticed. Last year Chef Barr was invited to showcase his culinary skills at several events, including going south of the border to "The Flavors of Canada" at renowned James Beard House in New York City. He was also part of a collaborative Ocean Wise dinner with top chefs in Vancouver at Night at the Aquarium, and invited to take part in the last leg of Canada C3, a signature project for Canada's 150th Anniversary of Confederation.
We are extraordinarily delighted to see recognition of Chef Barr's achievements. We are grateful to host his talent as part of our team at The Pointe Restaurant where, as a skilled leader and mentor, he is also helping to train the next generation of Canadian chefs as part of the Wickaninnish Inn's culinary program. With his guidance, we see a very bright future coming!
Chef Barr is naturally one of our featured chefs in the Wickaninnish Cookbook.
Find his recipe for Truffled Cauliflower Risotto (page 186) below!
TRUFFLED CAULIFLOWER "RISOTTO"
Ingredients
2 small heads cauliflower
2 cups (500 mL) milk
3 shallots, finely chopped
2 cups (500 mL) white wine
½ cup (125 mL) vegetable stock
3 Tbsp (45 mL) truffle paste
1 Tbsp (15 mL) truffle oil
1 bunch flat-leaf parsley, sliced
into chiffonade
1 bunch chives, chopped
¼ cup (60 g) butter
2 oz (60 g) Alpindon cheese
(a firm cow's milk cheese from
Kootenay Alpine Cheese Co.,
similar to French Beaufort
d'Alpage), or to taste
½ oz (15 g) fresh truffles,
preferably Périgord
1 bunch chervil, leaves only
2 cured egg yolks (page 273)
(optional)
S E RV E S 6
Directions
Make the cauliflower "rice": Remove and discard any leaves from the cauliflower. Use a knife to remove all of the florets. Grind all of the florets in a food processor so they resemble small grains of rice. Set aside.
Thinly slice the remaining cauliflower stems and place in a wide pot with the milk. Simmer until the cauliflower is tender, then drain off the milk and purée in a blender or food processor.
Place the shallots in a small pot with the white wine and cook down until almost dry.
Place the cauliflower "rice" in a wide pan with the white-wine shallots and vegetable stock and cook until almost dry. Do not overcook; it should still have some texture.
Stir in some of the cauliflower purée and the truffle paste, truffle oil, parsley, chives, and butter and mix vigorously to emulsify. Grate in half of the cheese and mix again. At this point the risotto should be rich and creamy and resemble a traditional risotto.
Distribute between six bowls and tap the bottom of each bowl to flatten the risotto. Finish each dish with additional grated cheese, shaved truffle (use a mandoline or a truffle shaver), chervil, and optional grated cured egg yolk.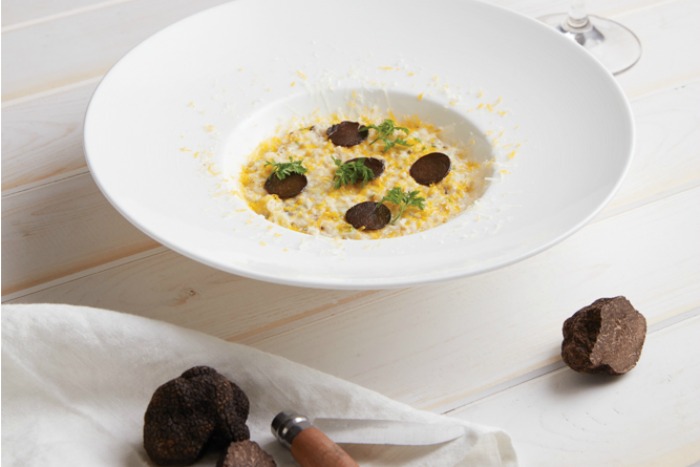 See All Blog Posts