2 October 2018
Friend of The Pointe: Chef Justin Labossiere
Some jobs we choose, other jobs choose us.
Chef Justin Labossiere grew up in a family of cooks, so maybe it shouldn't come as a surprise that he ended up in this career, but the "real" beginning was certainly quite sudden. The future chef was a dishwasher at The Pointe Restaurant when he was thrown in to cover a shift as the garde manger—the cook in charge of appetizers and cold dishes—one evening. By the end of the shift, he had a new job. After more than two more years at the Wickaninnish Inn, Justin had developed a passion and appreciation for food as a profession. He also discovered love, meeting his wife-to-be at the Inn during their time here.
Since his time with us, Justin moved south to Sooke Harbour House (in Sooke, B.C.), then east to Catch Restaurant and The Belvedere (both in Calgary, A.B.)—each helping to define and refine his skills. Next, he became the Corporate Chef for Concorde Group, an established hospitality company in Calgary, and opened a number of well-known and celebrated venues over his four years in that role. Justin went back to the kitchen for six years to open the restaurant NOtaBLE, before accepting a position back with Concorde as the company's Culinary Director. In this role, he is continuing to bolster the Calgary culinary scene by bringing exceptional dining experiences to locals and visitors to the city alike.
We are so pleased to have Chef Justin Labossiere as part of our alumni staff. And as one of our features from theWickaninnish Cookbook, we are sharing his recipe for Coconut Green Curry Mussels below:
---
CURRY BASE
4 cups (1 L) high-fat coconut milk
½ yellow onion, sliced
2 cloves garlic, sliced
1 stalk lemongrass, sliced
2-inch (5 cm) piece galangal, peeled and sliced
2-inch (5 cm) piece ginger, peeled and sliced
3 lime leaves, sliced into thin strips
3 Tbsp (45 mL) Thai green curry paste
1 bunch cilantro, chopped
1 bunch green onion, cut in 2-inch (5 cm) pieces
Lime juice to taste
Fish sauce to taste
Sambal oelek or sriracha sauce (optional)
MUSSELS
1 cup (250 mL) chicken stock
5 lb (2.2 kg) Salt Spring Island or
Gallo mussels
SERVES 4 To 6
Prepare the curry base: Skim 4 Tbsp (60 mL) pure coconut fat from the top of the coconut milk and add it to a medium-size pot.
Over medium heat, bring the coconut fat to a simmer, then stir in the yellow onions, garlic, lemongrass, galangal, ginger, and lime leaves. Mix well. Continue to cook the vegetables in coconut fat until the onions are soft and translucent and the fat starts to separate.
Stir in the green curry paste, making sure to completely coat the vegetable mixture. Cook for 2 to 3 minutes or until the mixture begins to stick to the bottom of the pot. Reduce the heat if necessary.
Add the remaining coconut milk, stirring well, and bring to a gentle simmer. Cook uncovered for 30 minutes or until the curry starts to thicken.
Stir in half of the cilantro and half of the green onions. Simmer for 5 more minutes, season to taste with lime juice and fish sauce, then remove from the heat and strain into a container.
The curry base can be prepared a day ahead to this point. It should be slightly salty, tangy, and spicy; if you like more heat, add some sambaloelek or sriracha sauce.
Make the mussels : In a large pot over medium-high heat, bring the curry base and chicken stock to a simmer. Add the mussels, cover, and cook for 7 to 10 minutes or until they have all opened. Discard any that don't.
Divide the mussels and curry between four to six bowls—or just one big one that everyone can share—and garnish with the remaining cilantro and green onions. Serve with warm or grilled bread.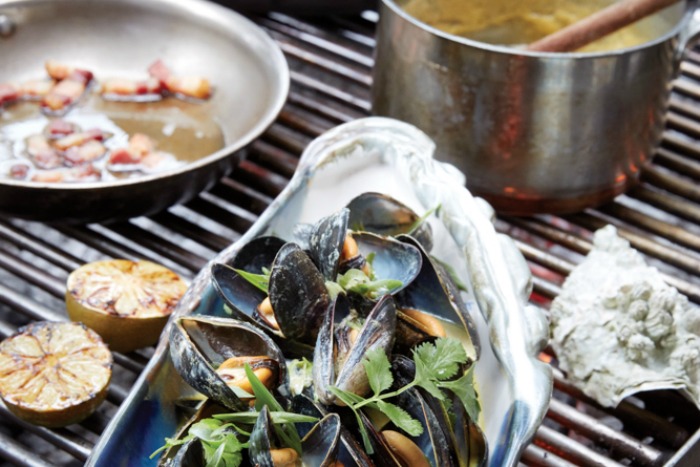 See All Blog Posts