22 December 2018
Friend of The Pointe: Matthias Conradi
Tofino was a very different place when Chef Matthias Conradi (pictured above with Chef Rod Butters) first visited in 1982. And at the time, on a road trip with his brother, moving to the west coast of Canada from their home in Germany felt more like a jest than a dream; it wouldn't be for many years that Matthias would turn it into reality.
Back at home, after finishing his apprenticeship in Munich, Chef Conradi moved to Abu Dhabi and worked at a European-style pâtisserie. His work and talent were recognized and he returned to Europe to take part in a year-long intensive program to specialize in pâtisserie traditions. After his course, Matthias stayed in St. Moritz, Switzerland for eight years, working at high-end resorts.
On his second visit to Tofino in 1997, Matthias sat at The Pointe Restaurant and realized that moving to Tofino while continuing to work as an aspirational and innovative chef was an attainable goal. On his return home, he promptly sent in his application and, with some work to obtain a visa, the Wickaninnish Inn was able to offer him a position as Pastry Chef the following year.
During his time at the Wick, Chef Conradi delighted in making seriously sensational desserts for everyday and formal occasions. He fondly recalls winning the Grand Marnier Dessert Challenge with a decadent chocolate platter creation, "a chocolate buffet for two." Local berries also often found their ways into his repertoire of sweets, and his creations were always a delight for the eyes as well as the taste buds.
In 2001 Chef Conradi opened his own eateries, Café Pamplona and then Pasticceria Conradi, before coming back to The Pointe for a short stint and then moving south on Vancouver Island to join the team at Sooke Harbour House and now Villa Eyrie Resort, north of Victoria.
We're so glad to have had Chef Conradi as part of our team and as a contributor to the Wickaninnish Cookbook. Try your hand at his recipe for Apple Croustade below: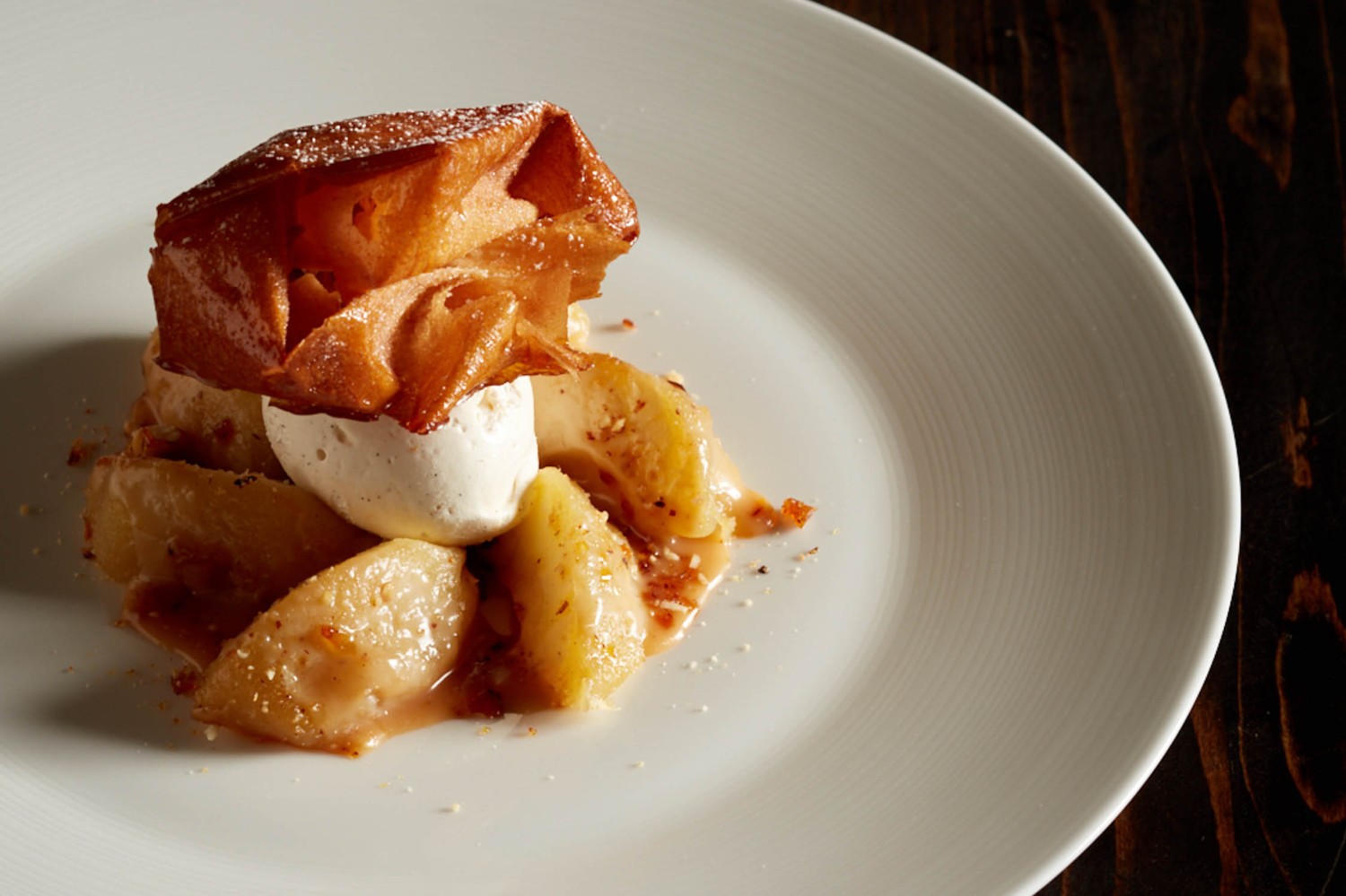 Apple Croustade
Butter Poached Apples
1 cup (227 g) butter
1½ cups (300 g) sugar
6 Granny Smith apples, peeled, halved, and cored
1½ cups (375 mL) cream
Filo Coronets
¼ cup (50 g) sugar
½ tsp (1 g) ground cinnamon
6 sheets frozen filo dough, thawed
½ cup (115 g) butter, melted and clarified
Serves 6
Prepare the butter-poached apples: In a large skillet over medium heat, melt the butter, stir in the sugar, and cook until lightly caramelized. The caramel should be a light amber colour; take care not to let it get too dark or it will be bitter. This should take only a few minutes.
Place the apples cut side down in the caramel and cook until they start to caramelize on the bottom.
Turn the apples over and caramelize on the outside, taking care not to overcook them. Remove from the pan and place on a wire rack to cool.
Whisk the cream into the hot caramel, taking care not to let the mixture splash or boil again. Strain the caramel cream and place it in the refrigerator. Chill the apples and sauce for a couple of hours before using.
Make the filo coronets: Preheat the oven to 400°F (200°C). Mix together the sugar and cinnamon. Brush each filo sheet with butter and sprinkle with the cinnamon sugar.
Form each sheet into a rough crown shape (or, if you prefer, fold each into the cavity of a muffin tin to form a filo cup). Bake for 10 to 15 minutes or until crisp and golden.
To serve: Cut the apples into wedges and heat with some of the apple-caramel sauce. Garnish with a filo coronet or place apples inside a filo cup. Serve with Tahitian vanilla ice cream.


See All Blog Posts