30 April 2021
Staff Profile: Clayton Fontaine
When you walk into Clayton Fontaine's home, you may be treated to the smell of braised lamb and foraged morels sautéing with fresh local greens and savoury spices. When you walk into his kitchen, you may find row after row of plump and delicately hand-made pasta noodles. You would be forgiven if you thought for a moment you were on a behind-the-scenes tour of The Pointe Restaurant's kitchen with Clayton preparing one of its renowned meals. However, Clayton is pursuing one of his passions in his own kitchen: making delicious pasta.
"I've recently started making pasta for some friends around town. It's been incredible to share that passion with the community." His newfound pursuit is cheekily called "Send Noods" and has all the makings of a successful venture in ultra-local hand-crafted comfort cuisine. With friends requesting seconds as soon as their bowls are empty, he enjoys keeping this project small and sustainable but knows he could be doing more based on how much people love the "noods".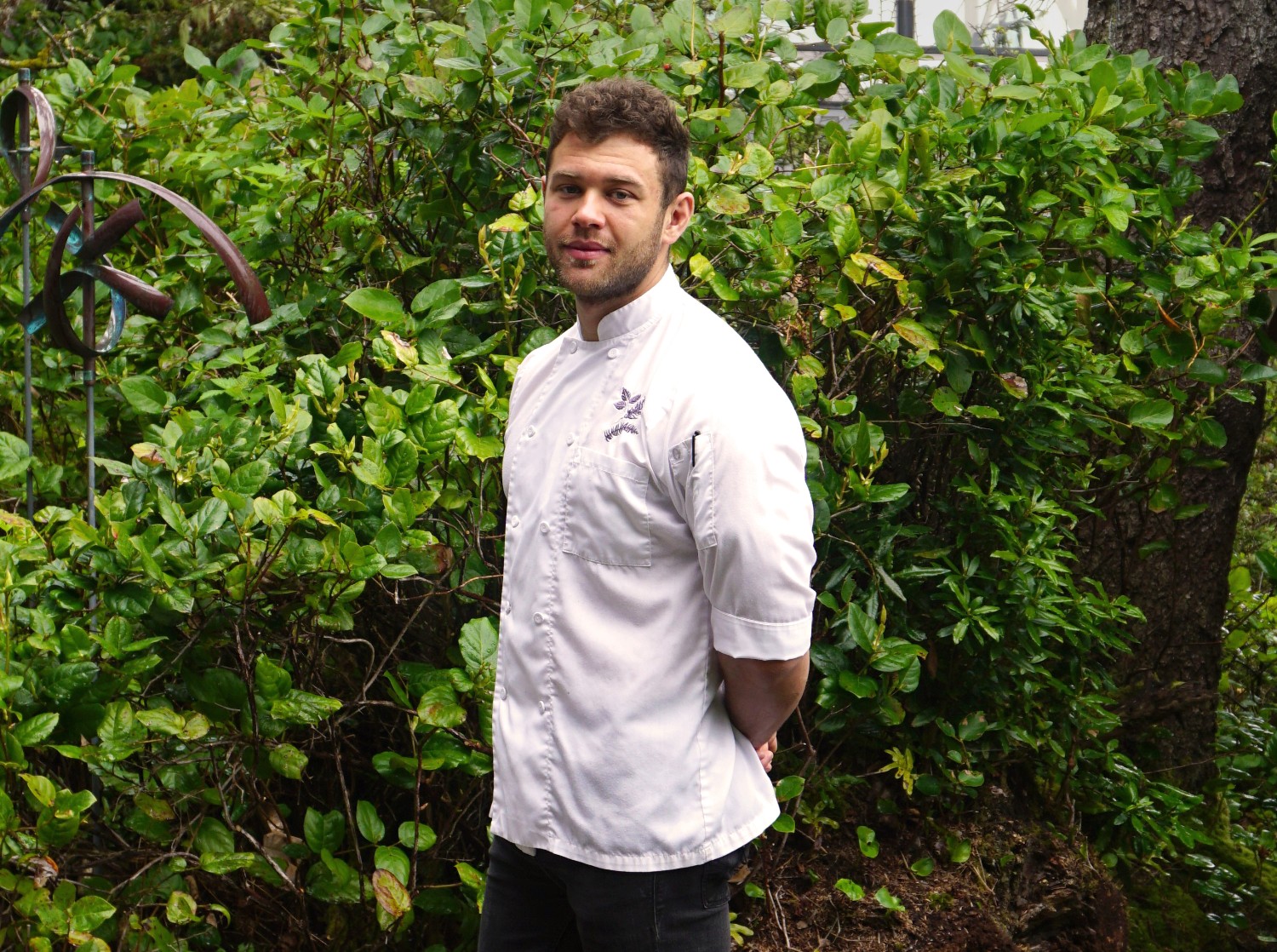 Clayton has been a part of the Wickaninnish Inn family for over a year as our talented Sous Chef in The Pointe Restaurant. When not cooking at work, Clayton is still inspired to create in the kitchen as his love of cooking traces back to when he was young. "Food has always been a significant part of my life. I remember when my mom used to work some nights, and dad and I would cook together. They are special memories for me."
Clayton grew up in Abbotsford, and while it will always hold a special place in his heart, he has since lived on Vancouver Island, in Toronto, and completely off-the-grid in the Rockies. While he has taken inspiration from all of these places, the Island and its ocean air has always drawn him back, so has the environment and its distinctive culinary possibilities. "The ingredients you find here are some of the best -probably the best - I've worked with. I love working with foragers to incorporate their latest bounty into our food. I believe it's of utmost importance to highlight the beauty of what we have."
Since the Inn closed in November due to the pandemic, Clayton has found the importance of some downtime – "it's something that's hard to come by in the hospitality industry." He has also found time to ponder the future, and thinking about growing into a Restaurateur is an intriguing possibility he is taking his time exploring. Patiently waiting for the Inn's re-opening, Clayton is excited to be back at work but believes that "Charles and his management team have stuck to their word. They wanted to ensure the safety of the community and the staff the best they could. I would say they have succeeded in that."
Clayton does manage to find time for a few activities outside of preparing delicious things in the kitchen. "Any of the free time I have left I've been spending with my partner and our sphinx cat." He also loves wellness and the balance it brings. "Exercise: It's something imperative to my mental health, and I make the conscious effort every day. Whether it's going to the gym or for a hike, it's something I find very refreshing." As springtime gets underway, you may find Clayton taking advantage of patio season while he charts his next adventure or in his favourite place in Tofino: on the beach after sunset under the stars.
See All Blog Posts